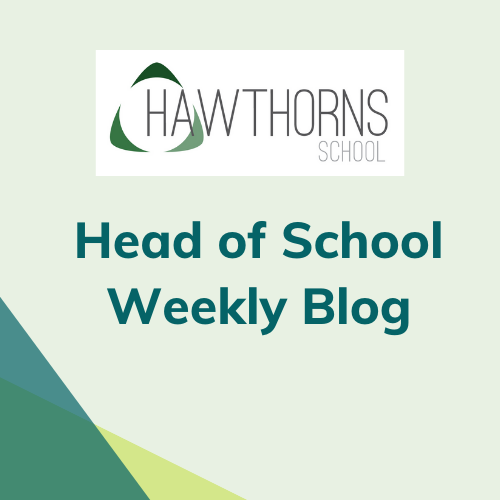 Greetings Everyone – I can't believe Friday has come around so quickly again!
My week has been dominated by the frustrations of the lack of space in school. As I type, I am squeezed into the back of the main Reception office, which is hardly ideal for all the online meetings that now dominate my week because of COVID. Though I shouldn't complain, it is a slightly larger space than the cupboard with no window I was in before.
All of us have to work like this in our school now because of the lack of space here. The increasing number of specialists from various support agencies have one small room to work in, so we have to timetable them very carefully so they can do their work with individual children but manage to keep 2 metres apart.
We now have 10 classrooms for our 14 classes since the addition of our temporary classrooms over the summer. 4 classes occupy 'adapted' spaces, which basically means the rooms the children have lost out on – ICT room, library, sensory space, soft play space, intervention room, and so on – are now classroom space. The staff here are amazing in their creativity, using every corridor corner, maximising the space in their classrooms, setting up sensory spaces and taking them down again every day in the Hall, but there is a limit to what even they can achieve.
Outside is even more challenging now. We have lost over a third of our playground space but doubled the number of children in school. The rains that started this week have shown us how quickly the grassed areas will turn into a mud bath with all the extra foot traffic on them. The Early Years children have lost their outdoor area altogether because the new classrooms were plonked on top of it – it was the only place they could go because of problems with drains. The playground surfaces all need changing to something more robust and weatherproof now.
All of this compromises what we can do and what we want to be able to do with the children. They deserve better, they are entitled to better. It should not be that they have less facilities, and less quality of facilities, than their peers in mainstream schools. If anything, these should be of a higher quality in a SEND school. The staff that work here should have everything they need to deliver the highest quality provision for the children that they can – not have to make do with substandard physical space.
Judging by the continued demand for places, the requests for tours and information, the tribunals we have to submit evidence to, there is not likely to be any let up in rising admissions in the foreseeable future. Parents who are desperate for their SEND children to be here, where we know we can meet need, should not have to be turned away. Many of you will know what it is like to have to fight the system on behalf of your child, and will empathise with these parents and their struggles. Yet if we admit, we make things worse for children and staff who are already suffering from the chronic over-crowding. The COVID restrictions and need to constantly clean all spaces in school have only added to the significant challenges to keep everyone safe.
So what can be done? While I have lobbied Tameside constantly for a solution, the truth is that the real influence lies with you – our parents. I am mindful of the power of Hawthorns parents in the past – when Hawthorns School was at its Denton site and faced with closure. It was the noise and energy created by parents, it was their campaigning that caused a change in policy and saved the school. Again, it has been the support of a small group of Hawthorns parents that has pressed for something to be done about our current situation, for the good of everyone's SEND child. Tameside has now arranged a virtual meeting for parents to outline their thoughts about Hawthorns in the future – hopefully many of you will be able to take part in this on Tuesday 29th September at 12.30 pm. I know the time is tricky for working parents, it was the only time available for the councillors involved to attend. If you can make it, please listen to what they have to say and share your views – your voice is so much more powerful than mine.
Despite all of these challenges, we will all continue to work hard at Hawthorns with the resources and space we have for the benefit of the children here. Amazing children deserve an amazing effort – that is what spurs us on.
Have yourselves a restful weekend,
Mr C