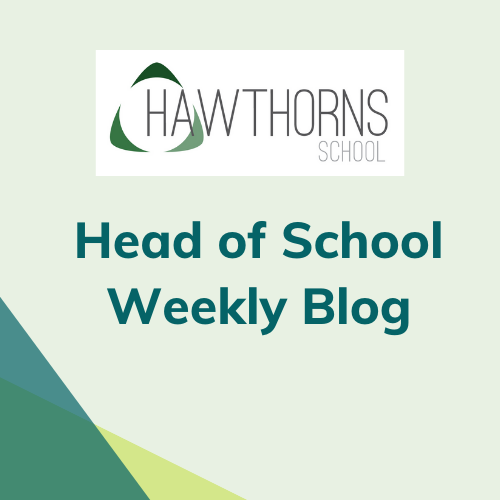 Hi Everyone,
COVID finally caught up with us this week, and we had to send part of one of our bubble groups home due to a positive test among one of our staff. In some ways it was inevitable, as all the schools around us and all the special schools in our area have had positive cases, some of them multiple times. We are prepared for these situations, but there are always learning points to improve what we do. Some notable ones this week were:
Timing of communications. In the case of a COVID positive test, we will notify you as soon as we find out ourselves. This week we sent out a communication to the affected families around 11pm, which was within an hour of us being informed. While we apologise for the lateness of this message, we do want to give parents of children directly affected as much notice as possible so they can make arrangements for self-isolation and childcare. Please check your phones regularly during this period while the infection rate is still high in our area.

Type of communications. We introduced the new ParentApp some weeks ago because of its ability to get messages to recipients quickly. It is the best form of communication because most people usually have their phones with them for most of the time. Nearly all parents are signed up to ParentApp now, so we know we can reach almost everyone when we need to. One of the benefits of the app for us is that we can see if messages have been read or not – I cannot stress enough the need to check your messages regularly during this time, to avoid children being turned away at the door if their bubble group has been closed. We also back the app message up with an email, and we keep this as a record too. I do check that the staff have done these things where this has been necessary.

The importance of up to date contact information. Please let us know if you change your phone number and/or email address. We appreciate the many reasons why families need to make changes – just keep us up to date. Otherwise we could be sending messages believing you are receiving them when in fact you aren't. This is also important for named second and third contacts that you indicated on your child's admission form. Help us to help you stay informed.

Information. In the first instance, our priority is to get a message out to the families and staff concerned at the earliest opportunity so that they can make plans. We will follow this up with a letter to these families once we are back in school, giving further details like return dates, etc. We understand that parents may have questions, and we are happy to field these to offer reassurance. We will also send a letter to all parents informing them that we have had a positive case and that those affected have been sent home to self-isolate.

Being prepared. We totally understand the anxiety over COVID and the concerns that arise when it affects our school, particularly because of the vulnerabilities of our children. Almost every school in our area has been affected, and we have anticipated that we would be no different. Our protocols in school are reviewed constantly, by ourselves and by the central executive team of our Trust. We are in regular communication with Public Health England, and every response to a potential positive case is discussed with them before it is issued to ensure we are up-to-date with guidance and we are making the right decisions for families and for staff.
At Hawthorns, we know that the best place for children at the moment is to be in school, to ensure they continue to have a structured day, and to give the children continuity in their education and provision. Our staff are no different to anyone else in having anxieties about the situation, but they are committed to the children always. Our outstanding children need the support of these outstanding people.
Both our staff and pupil attendance is higher than the national and local average at the moment, and we hope to keep it that way by keeping the school as safe as possible. None of us can predict what is coming up in the future, but we can prepare ourselves as much as possible for whatever might be coming our way. Communication is key. Please make sure the communication pathways being used are open and up-to-date at your end. Call us and talk to us if you need reassurance, have questions or just need a chat. Our school belongs to all our families and staff, and we need to support each other through this very challenging time.
Finally, for those children who missed out on Children in Need because their bubble group was sent home, the staff will hold their event on their first Friday back. We can't have them missing out!
Have a good weekend all of you – take care of yourselves.
Mr C