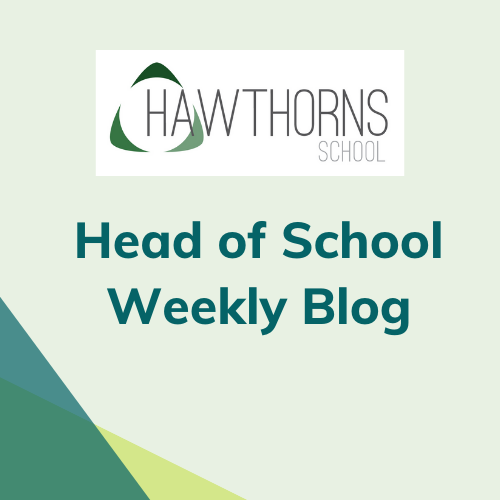 Good afternoon Everyone,
I have to say a huge thank you to you - our families – for the feedback and support we have received recently. It is a tough time, but your engagement with us is as valuable as ever.
Firstly, thanks to our new parents for their comments and advice in the post-admission reviews, which we hold in November to check-in with families to discuss how they feel our new children have started their new school. This year has been a particular challenge with the lack of transition and no opportunities to visit children in their settings prior to them joining us, but we are really grateful for the patience and advice we have received from parents to help us settle their children in at Hawthorns. The feedback we have been given in the reviews is really useful – so a big thank you from me for that.
Another big expression of thanks is due to all the families who took the time to complete the feedback form last week regarding Tameside's plans to expand our school. There were lots of suggestions and ideas, and I have to say a large dose of common sense. Some things were raised that we hadn't thought of too. Your feedback has helped us to understand what you would want to happen ideally, and we have passed this information on to the Local Authority as part of their considerations. It's now a case of watch this space to see what happens next – I will of course update you if/when we receive any further developments.
Our recent parent governor election had a great response – 102 votes! Thank you so much for taking the time to cast your vote. Congratulations to Ashley Butterworth, who has been duly elected as your representative on the governing board. Ashley is well-informed and I am sure she will be an asset to the governance of the school. All three candidates were strong, and I would like to thank Aisha and Florence for having the interest and courage to put themselves up for election – if we had three spaces on the board I would have happily encouraged all three to join.
My thanks must also go to parents who drop/collect children at school. As you will be aware, we have been doing some work on our playgrounds, to realign some fences and to resurface the muddy grassed areas so the children can use the outdoor spaces in any weather. We have completed the Early Years areas, and soon our rear playground will be finished. Thank you to everyone for their patience while this is being done. We are going to try and squeeze the front playground works in during the last week of term, which will cause some disruption to a busy area at the start and end of the day. If the weather allows us to finish this, it means the children will have access to the full extent of all our playgrounds from the start of next term, rather than having to wait for the February half term break. We really appreciate your support on this, despite the inconvenience to you. It is for the children and we know you will understand.
Finally, despite all the pressures and all the restrictions, I have to commend all our families for supporting us to ensure our children attend school at this difficult time. Both the attendance of children and staff has been really strong since we returned after the summer, despite the need for some to self-isolate as precautionary measures. It is so important for the children's development and well-being to have this continuity and structure, and we really appreciate the effort on your part to ensure this happens.
Have a restful weekend, and keep yourselves safe,
Mr C