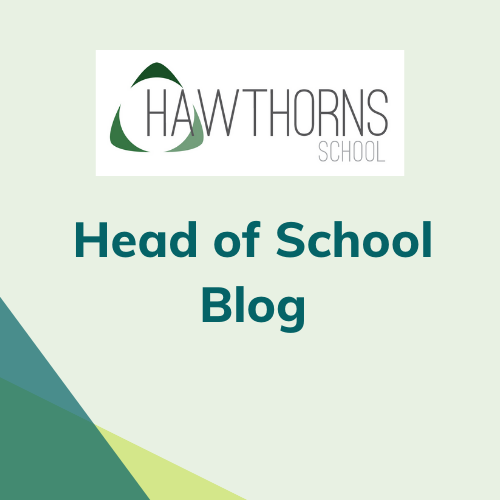 Hi Everyone
We have reached the half-way point in this stop-start school year already!
I'd like to thank all of our families, again, for their tremendous support to keep everyone safe at this challenging time. You are all absolute heroes. Not enough people give you the credit you deserve, but at Hawthorns we totally appreciate what you are doing for your children at this time. While home learning can never replicate what is done in school, we are in awe of so many of you making such an effort to at least try to make sure your children keep a sense of learning going. You are wonderful human beings.
I have been tracking the infection rate in Tameside every day since the lockdown started, in order to gain a sense of what is actually happening in the Borough. At Hawthorns, we have started to gradually increase the numbers of children and staff in our school buildings in recent weeks as infection rates have started to drop, and this process will continue after half term. We have to be cautious and wait to see what the impact of the half term break will be – the last two holidays have seen a rise in the infection rate – but I am optimistic that the infection rate will continue to fall.
We have maintained our tight protocols in school to keep children and staff as safe as possible at Hawthorns. Special school staff have now been given the same status as care workers, and recently all of our staff have been given their first vaccination, which should start to take full effect soon. We have trialled twice-weekly lateral flow testing for staff recently too, so that we can pick up any potentially asymptomatic adults in school quickly. All of these things combined make our school a safer place to be, which is our goal in preparation for all children returning.
We have been working on many other things too during this lockdown period. Plans for Hawthorns' future expansion continue – Tameside Local Authority have assured us that their ambitious plans to develop a new site are on track. They will be arranging an update meeting for parents soon after the half-term break – we will of course let you know when a date has been set. Tameside are working much more closely with the New Bridge Trust now to put together a more comprehensive vision and pathway for SEND children and young adults in the Borough. It is what Hawthorns parents asked for in recent surveys and meetings, and there seems to be some energy to act upon this. I have to say, it's about time. New Bridge are now supporting Samuel Laycock School, and it is hoped that we can work together more closely in the future for the good of all our children, up to age 16 and beyond.
One of our teachers, Sarah Dunsdon from Holly Class, is leaving us to take up a post at Samuel Laycock. There's never a good time to lose a quality member of staff, and particularly not mid-year. However, this will help us to start forging stronger links with the school that the majority of our children move on to, which is in the longer term interests of many of our children. We give her our blessing and wish her every success in her new role. Fortunately, we have managed to secure the return of Jon Pointon for Holly class. I know many of you will be glad to see him back on our staff team.
We are off on half term break next week. Things can only get better. Stay positive Everyone, follow the rules so we can all stay safe and come out of this miserable lockdown in the not too distant future. I'll be in touch with another update soon.
Have a great week,
Mr C